Taylor Freezer Gelato & Frozen Custard Machines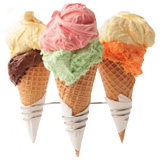 If you have ever experienced a breakdown of your food service equipment or industrial kitchen supplies, then you know first hand just how valuable your production time is. As the leading equipment manufacturer in the food business, Taylor produces machines that are reliable and efficient. This allows you to capitalize on your production time and increase the profitability of your business. In fact, because the food cost associated with making your own ice cream is so low, you could experience a 70- to 80-percent profit margin. Whether your business is just getting started or you are replacing your outdated equipment, Taylor Freezer of Michigan, Inc. has a solution for you.
Versatile Gelato and Frozen Custard Machines
Nothing compares to the smooth creaminess of gelato and frozen custard. With Taylor equipment in your commercial kitchen, you can rest assured your operations will run smoothly and efficiently. Gourmet products that are made with Taylor industrial kitchen supplies are frozen in a batch freezer. This freezer is designed to produce low or high overrun frozen dessert in batches with minimal effort on your part. All you have to do is add the mix to the batch freezer and pour in the desired flavorings. When the freezing cycle is complete, dispense the product into a container for storage in a hardening cabinet or serving display case. Candy, nuts, or fruit are then added as the frozen product is dispensed.
To learn more about how Taylor gelato and frozen custard machines can boost your profits, browse the equipment below and then contact your local sales office for a quote.
Showing 1–9 of 15 results