BOOST YOUR PROFITS WITH
BROASTER FOODS®
Why We Love Broaster Foods®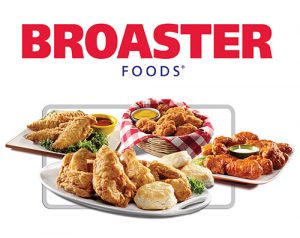 For more than 60 years, America has been in love with the high-quality flavors, crispiness, and juiciness of Broaster Foods®. Whether you are a restaurant owner who is looking for a way to increase your profits or you are hoping to inject new life into your menu, you can't go wrong incorporating Broaster products into your kitchen.
Taylor Freezer of Michigan, Inc. offers a wide variety of ready-to-cook food options that will save you time and money, all while delivering the irresistible flavors your customers demand.
Contact us today to learn more about becoming a Licensed Trademark Operator!
---
Why Become a Licensed Operator?
If you are passionate about providing your patrons with the best menu options and dining experience possible, then becoming a Broaster Licensed Trademark Operator is perfect for you.
As a Licensed Operator, you'll have access to proprietary Broaster ingredients for chicken, fish, seafood, and more, enabling you to build a diverse menu that appeals to a wide variety of customers. You'll also have access to ready-to-cook, crowd-pleasing favorites, as well as signature Broaster marinades, coatings, batters, seasonings, and more.
The benefits are virtually endless, and Taylor Freezer of Michigan, Inc. would love to help you discover how becoming a Licensed Operator can enhance your business.
Get in touch with a local sales office today!
Make Informed Decisions
"My rep guided me through the layout process and helped me make informed decisions that were the best for my business. Thank you."
- Andrew & Brooke C.
Premium Quality
"I would recommend the Broaster line to anyone without -- premium quality food without the expense or mess of traditional fryers."
- Jeff & Linda P.
Need Advice?
"I would recommend Taylor Freezer to anyone who is looking to buy equipment or looking for advice on a new food industry venture. They know their stuff and helped me."
- Kevin B.
Grille 44
Starting a Business?
"I was starting a yogurt business and contacted Taylor Freezer. My rep explained how the reconditioned equipment was fully warrantied and that he would work to make it go smoothly."
- Ann N.
Professional
"We have been so happy partnering with Taylor Freezer of Michigan. Taylor never bad mouthed their competition and showed they were professional and how to help me be successful."
- Ben & Amanda H.