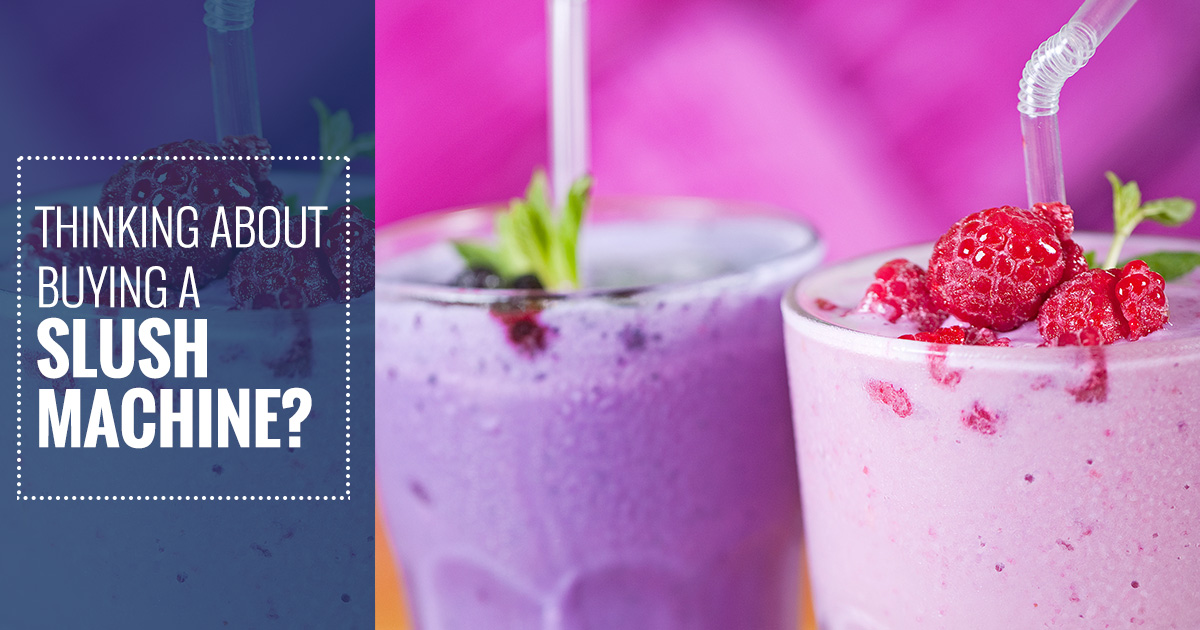 When you are in the restaurant business, it can be difficult to craft a well-balanced menu that covers everything from delectable appetizers and entrees to sweet desserts and thirst-quenching beverages. To ensure the success of your restaurant or food truck business, you want to make sure that your customers have plenty of options without feeling overwhelmed. Incorporating a slush machine is a fool-proof way to add some exciting items to your menu while giving your patrons the variety they demand, and in today's post, we'll discuss just how valuable this piece of commercial foodservice equipment can be to your establishment.
With more than 64 years of experience in the foodservice equipment industry, Taylor Freezer of Michigan, Inc. is your go-to source for high-quality commercial kitchen equipment. We offer a wide array of equipment and we are happy to meet your equipment parts and service needs as well. If you're considering purchasing a slush machine for your restaurant, call our team of experts at 734-742-5217 today to get started!
What is a Slush Machine?
You might have heard this piece of commercial kitchen equipment called by other names such as a "slushy machine" or a "granita machine." No matter what you prefer to call these machines, one thing is certain: they produce refreshing chilled and frozen beverages that your customers will love. Slush machines typically use water to create an ice slush from scratch, meaning you don't need prepared ice to whip up a batch of sweet treats. All you need is a liquid concentrate or powder drink mix, water, and the slush machine.
Why Your Restaurant Needs a Slush Machine
When it comes to commercial foodservice equipment, slush machines are one of the most versatile items you can have at your disposal. Often referred to simply as "frozen drink machines," slush machines allow you to serve high-quality, in-demand chilled and frozen treats all year long. Your guests will appreciate a refreshing slushie in the warmer months and the option of having sweet treats in the winter, as well.
In-Demand Slush Machine Treats
The types of frosty treats you can create with a slush machine are virtually endless! Some of the most popular ones include:
Frozen lemonade. A delicious treat during the hot summer months.
Slushies. Another tasty menu item your guests will appreciate during warm weather.
Frozen coffee. A perfect offering for patrons who are on the go and prefer their java iced.
Frozen alcoholic drinks. An excellent menu item year-round if your establishment serves alcohol.
These are just a few of the menu items that become possibilities when you add a slush machine to your kitchen. One of the best things about chilled and frozen beverages is that they are completely customizable based on the changing demands of your customers. Whether you run a brick-and-mortar establishment or you are a food truck owner, having a high-quality slush machine in your arsenal of commercial foodservice equipment allows you to have more beverage and dessert options for your customers, which is sure to have a positive impact on your profits.
Ready to Buy a Slush Machine?
Whether your food truck specializes in serving frosty iced drinks or your restaurant's menu is in need of more exciting dessert and beverage options, incorporating a slush machine into your kitchen can make all the difference. At Taylor Freezer of Michigan, Inc., we pride ourselves on being the go-to distributor of commercial foodservice equipment for the restaurant industry, and we would love to help you boost your profits. Contact a member of our team today to learn more about this versatile piece of equipment! We look forward to serving you!