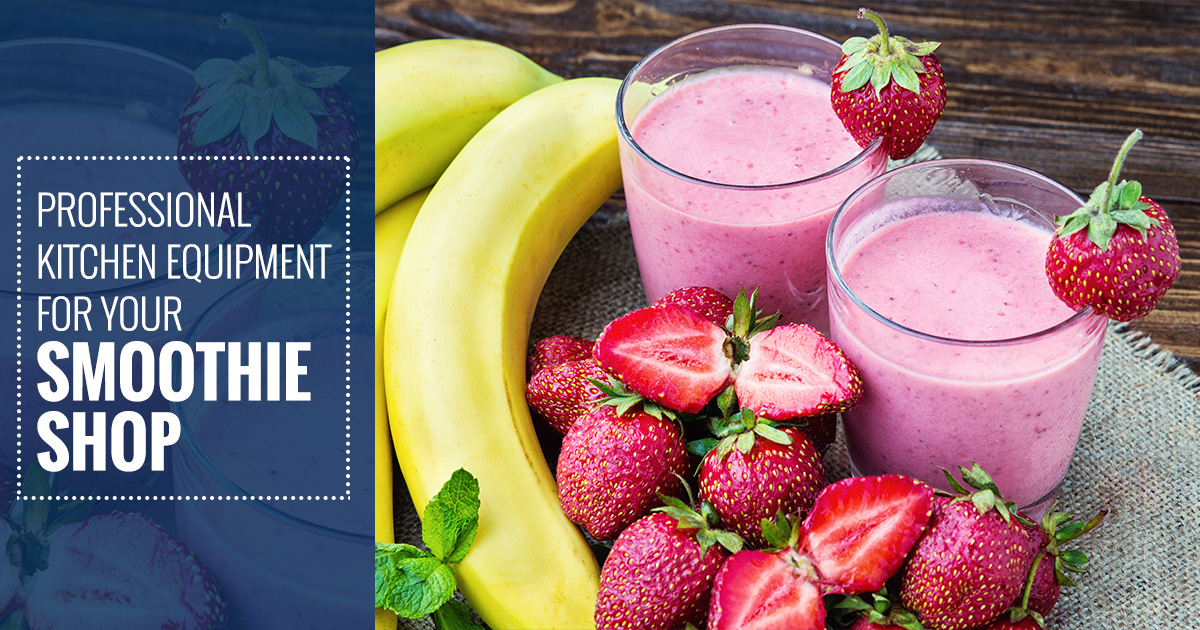 If you own a smoothie shop, you likely understand the importance of having high-quality professional kitchen equipment. Not only do these items allow your daily operations to go off without a hitch, they are also important for food safety and creating the cold, delicious treats your business is known for. At Taylor Freezer of Michigan, Inc. we know a thing or two about what machines and equipment you need to run a smoothie shop, and in today's post, we'll review a few of these essential items. Read on to learn more and shop our large inventory of smoothie machines and commercial refrigeration products today!

Essential Equipment for Smoothie Shops
Industrial Smoothie Machine
Without a doubt, having the right smoothie machine in your shop is critical to the success of your daily operations. Choosing a smoothie maker that suits the needs of your business is easy if you consider a few important factors. First, consider your customer base. If you are serving thousands of customers a day, an industrial smoothie machine is a must. Second, consider what types of smoothies you will be making and the amount of space you have in your kitchen. Depending on how big your kitchen is, you may have room for a floor model, or you may find that a countertop model helps you best maximize your kitchen space.
Immersion Blender
Whether you are dealing with large pieces of fruit or you are looking for a way to cut down on the prep time for your most commonly ordered menu items, having an immersion blender on hand can be incredibly helpful. These powerful handheld blenders make short work of the smaller jobs that you might have around your shop, and they can even be used to put the finishing touches on a smoothie by evenly mixing in smaller ingredients without pulverizing them. These efficient tools are affordable and easy to clean, making them an indispensable piece of professional kitchen equipment for your shop.
Ice Machine
You can't make a smoothie without ice, and you don't ever want to find yourself running out of this key ingredient during a rush of customers. Can you imagine having a line of people waiting impatiently for their orders, or worse, walking out before receiving their smoothie? In order to ensure premium-quality beverages and efficiency, it is essential for smoothie shops to have a constant, self-replenishing ice source. Usually, this comes in the form of commercial ice machines, like those from Hoshizaki®, as you can rely on them to produce large amounts of ice continuously without the fear of mechanical problems.
Are you shopping for new or reconditioned professional kitchen equipment that you can rely on? Contact your local Taylor Freezer of Michigan, Inc. office today!
Commercial Refrigeration
With the recent interest in the food truck industry, smoothie businesses have gone mobile. Whether you operate out of a mobile concession trailer or out of a brick-and-mortar location, you want to make sure that you have a means of conveniently refrigerating your smoothie ingredients. This is essential for food safety, but it is also important to have key ingredients readily available to expedite the production process. Choosing an under-counter refrigerator allows food trucks and storefronts alike quick access to things like yogurt, fruit, milk, and other ingredients without having to dig them out of the main refrigerator in the back.

Other Important Utensils
In addition to commercial smoothie machines, immersion blenders, ice machines, and refrigerators, there are other utensils that are essential to the smoothie making process, including:
Knives. A good set of sharp knives that includes a variety of blades is critical for cutting fruit quickly and safely.
Cutting boards. Wood and plastic are generally the best types of cutting boards as they will not dull knives as quickly as harder cutting board materials.
Cups and wide straws. Using insulated cups with large straws will allow your customers to keep their treats cool while on the go and sip them easily.
Juicers. Fruits with tough skins can be challenging to chop quickly, but heavy-duty juicers can make quick work of them, lessening your prep time.
If you're considering opening a smoothie shop, or if you are shopping around for high-quality professional kitchen equipment to complement your current setup, Taylor Freezer of Michigan, Inc. is here to help you!
Smoothie Machines and More
Are you ready to take your smoothie shop to the next level by investing in professional kitchen equipment? If so, the knowledgeable experts at Taylor Freezer of Michigan, Inc. are here for you. From product sales to service and parts, we proudly offer an end-to-end customer experience that other food service equipment distributors don't. Additionally, we offer reconditioned equipment for customers who prefer gently used machines. Call us at 800-589-6165 today or browse our full line of products now!