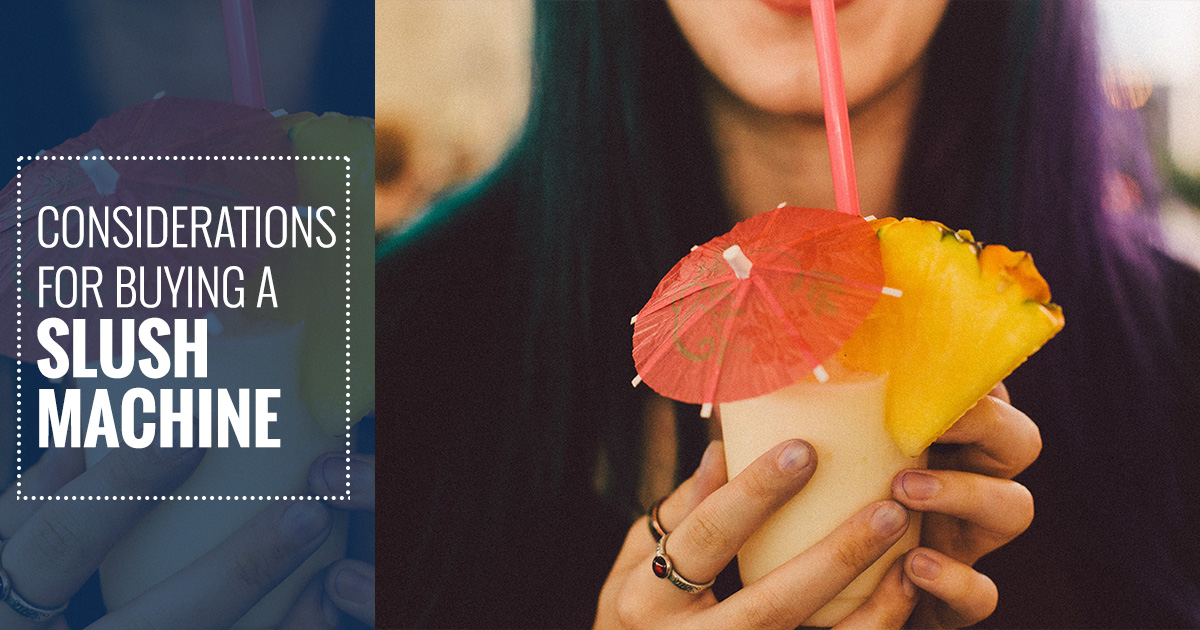 Slush machines are a versatile and integral part of many foodservice operations. In a previous post, we discussed how beneficial slush machines can be for creating a balanced menu and a few of the delicious treats that you can offer when you add one of these machines to your collection of commercial kitchen appliances. Today, we will continue our discussion on these useful appliances by exploring what types of businesses can benefit from having one and a few factors to take into consideration before you purchase a slush machine.
Taylor Freezer of Michigan, Inc. has more than 64 years of experience in the commercial food equipment industry. We are proud to offer a wide variety of products from top-of-the-line manufacturers, including slush machines. To speak with a member of our team about all the ways you can benefit from purchasing a slush machine, contact us today!
Who Needs a Slush Machine?
Slush machines provide the ultimate in cold, refreshing beverages and treats for patrons. No matter what type of food service establishment you operate, these versatile commercial kitchen appliances can help you create a diverse menu that your customers are sure to love. Let's take a look at a few of the businesses that often offer their clientele treats that are made with a slush machine:
Food truck owners. Whether their food truck specializes in smoothies, slushies, or other types of frozen treats, operators depend on reliable slush machines.
Concession vendors. Fans attending baseball games, concerts, and other events enjoy treats like frozen lemonades between innings and during intermissions.
Bars. Bartenders never know what their patrons will request, and must be prepared to offer several specialty drinks, including frozen alcoholic beverages.
Restaurants. Whether high-end or fast food, restaurant owners benefit from the wide variety of chilled and frozen treats created with a slush machine.
Coffee shops. Java aficionados love a nice, hot cup of coffee, but some prefer their coffee frozen or iced.
Corporate cafeterias. Employees and guests of large company headquarters and hospitality facilities appreciate the opportunity to enjoy a sweet frosty treat during the day.
These are just a handful of the businesses that benefit from having slush machines as part of their commercial food equipment arsenal. Taylor Freezer of Michigan, Inc. distributes our slush machines to many other types of food service industries as well, and we would love to speak with you about the benefits of purchasing one of our units.
Factors to Consider Before You Purchase
When you are ready to purchase your slush machine, there are a few factors that you should consider to ensure you purchase the right type of machine for your needs. These factors include details pertinent to the hoppers, available space for the machine, and cooling methods.
Size and Number of Hoppers
Slush machines feature hoppers that hold your chilled or frozen products. When shopping for the right machine for your needs, it is important to consider how much frozen lemonade, frozen margaritas, or other products you need to have on hand to meet your customers' needs. Hoppers are available in several different sizes, and you can find slush machines with hoppers as small as 1.5 gallons, or as large as 8.75 gallons. You will also want to consider how many hoppers you need to accommodate the number of menu items you have to offer. For some restaurants, one will suffice. If your establishment specializes in chilled and frozen beverages, you may need several machines with multiple hoppers.

Available Counter Space
For the ease of your wait staff and customers, slush machines are designed to sit on a countertop. Depending on the size of your kitchen and the available prep space, this is a bigger consideration for some business owners than it is for others. For example, if you have a small food truck, available counter space may be more of an issue than it is for someone who has space for multiple commercial kitchen appliances. The size and number of hoppers contribute greatly to the overall size of the machine, as does the unit's compressor type.
Compressor Type
Any type of commercial food appliance that runs for hours on end needs to be cooled in order to prevent the unit from overheating. A vast majority of the slush machines on today's market are cooled by air. These units use a fan and a condenser to maintain proper operating temperatures. Some manufacturers produce water-cooled units that rely on a water supply to keep the machines operating temperatures in the proper range. Generally speaking, air-cooled units are easier to install and may take up less space than water-cooled machines.
Commercial Kitchen Appliances and More!
Are you ready to incorporate a slush machine into the rest of your commercial kitchen appliances? If so, Taylor Freezer of Michigan, Inc. is here for you. We offer industry-leading industrial foodservice equipment, service, and parts to provide an end-to-end partnership that can't be beat. Browse our full line of products now and contact us with any questions!