It's no secret that everyone loves fried food, whether it's chicken, onion rings, French fries, or any other food you put in a deep fryer. That being said, deep-fried food isn't always the healthiest or even the most cost-efficient for your business. Luckily, Taylor Freezer of Michigan has a solution!
If you're looking to outfit your restaurant with the latest and greatest commercial food service equipment, then Taylor Freezer has just what you need. We offer a variety of products from some of the most well-known brands in the industry, including our industrial Broaster pressure fryers! Learn more about this innovative product below, and contact your local Taylor Freezer sales representative to get started today!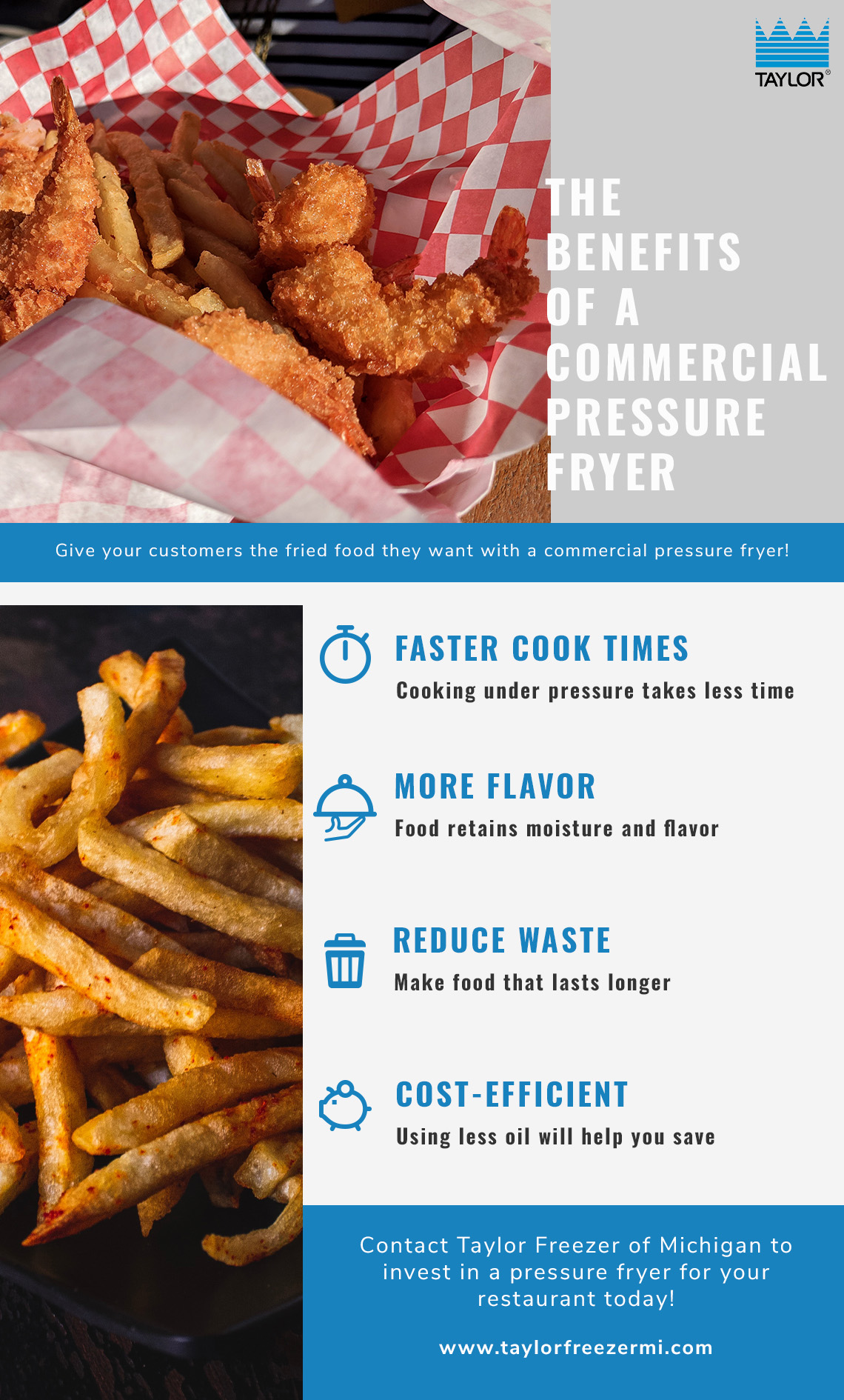 Faster Cook Times
When you run a busy restaurant, there isn't any time to spare. You want to get food in front of your customers as soon as possible, and using slower methods of cooking can impact the flow of your kitchen. One of the main benefits of using a pressure fryer instead of a traditional open fryer is pressure frying will result in faster cook times! When you pressure fry food, the food is exposed to a pressure of almost 12 psi, which causes the food to cook faster. As a result, you will be able to not only speed up production in your kitchen, but you will also be able to make more food in less time!
More Flavor
Flavor is just as important, if not more important, than speed when it comes to running a restaurant. Not only do you want to provide your customers with their meals quickly, but you also want to give them food that will have them coming back for more.
With a traditional open fryer, oftentimes the flavor of the oil will transfer to the food, overpowering some of the food's natural flavors. When you use a pressure fryer, the fryer seals in the food's natural flavors while also preventing the intake of excess oil. Not only will this result in better flavor, but it will also allow the food to lock in moisture.
Reduce Waste
When you cook food in an open fryer, the food is usually crispy right out of the fryer, but it doesn't typically retain that crispiness the longer it sits out. If food sits out too long, you'll eventually have to throw it away, essentially wasting a batch of food that is still good to eat but no longer the crispy texture your customers desire.
With a pressure fryer, you can reduce your food waste. Pressure fryers use less oil, meaning less oil for food to soak up and less oil to make your food soggy when it sits out for a long time.
Cost-Efficient
As we mentioned, pressure fryers require less oil to operate and produce delicious fried foods than open fryers. Pressure fryers also cook food at a lower temperature and release less moisture during the process, meaning the quality of the oil stays intact. Because you will use less oil than you would with an open fryer, you will be able to save on your overall oil consumption. Additionally, the faster cooking times will help save energy in the long run.

Invest in a Broaster Pressure Fryer!
If you're interested in upgrading your kitchen with a commercial pressure fryer, then Taylor Freezer of Michigan is here to help! We offer a large selection of commercial food service equipment from well-known brands such as Taylor, Broaster, Zummo, and more! Explore our site and contact your local Taylor Freezer sales representative to get started.
We look forward to hearing from you!