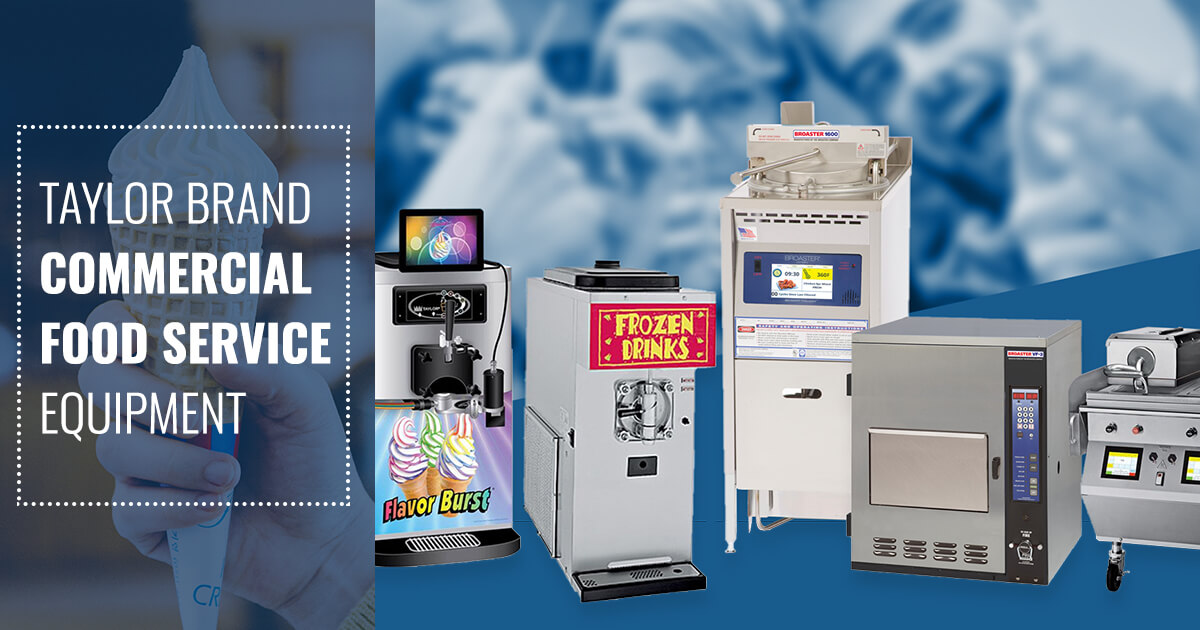 ---
---
When opening a restaurant, coffee shop, hotel, or another type of establishment, you want to ensure that your kitchen is equipped with high-quality commercial food equipment. Whether you're outfitting your hotel with a commercial juicer for fresh juice options or you're stocking up on equipment to make coffee, you can count on Taylor Freezer of Michigan to have everything you need!
At Taylor Freezer of Michigan, we understand that commercial food service equipment can be expensive, especially when you're just starting. However, instead of settling for less expensive equipment that might break down sooner rather than later, Taylor Freezer offers well-known brands at a price that you can afford. If you're ready to upgrade your kitchen, we are ready to help. Explore our website to learn more about the equipment and brands that we have to offer, and contact your local Taylor Freezer sales representative to get started! In the meantime, continue reading below to find out more about Taylor Freezer and what sets our equipment apart from the crowd.
---
Why Choose Taylor Freezer?
While Taylor Freezer of Michigan offers commercial food service equipment from a variety of different brands, the Taylor Freezer brand has a reputation of its own. At Taylor Freezer, we specialize in equipment for frozen drinks, custard, gelato, and so many other delicious treats. Our equipment is perfect for restaurant or ice cream shop owners who are looking to provide their customers with delicious frozen treats made right on the property.
That being said, if you're looking to outfit your establishment with soft serve, custard, or milkshake machines, you will soon find that there are many different brands available on the market. So why choose Taylor Freezer?
One of the most important things to note is that Taylor Freezer has been in business much longer than some of its competitors. Taylor Freezer was founded in 1926 when Charles Taylor created the first automatic batch ice cream freezer. Charles was tired of the messy salt-based ice cream makers, so he created a countertop automatic ice cream freezer that was able to create delicious ice cream without the hassle. From there, Taylor Freezer expanded, and now you can find Taylor brand appliances all over the world!
In addition to its long-standing history of creating exceptionally great products, Taylor Freezer also offers unmatched customer service. Not only does Taylor Freezer of Michigan offer the equipment and parts you need to ensure that your kitchen runs smoothly, but we also offer machine servicing! We know that our customers rely on our machines running properly to help their bottom line, which is why we do everything we can to ensure that you are satisfied with your commercial food service equipment for many years to come.
---
Different Taylor Freezer Products Offered
Taylor Freezer is proud to offer our customers a variety of high-quality equipment, from frozen slushie machines to grills and more! If you are considering Taylor Freezer for your commercial food service equipment, we are more than happy to help you find the right product for you! The products we offer include:

Gelato & Frozen Custard Machines – Our gelato and frozen custard machines are designed to produce consistent products as efficiently as possible. At Taylor Freezer, we understand that your time is valuable and that you don't have time to spend standing around making gelato or frozen custard. For this reason, we've designed our machines to run with minimal effort on your part. All you have to do is add the mix and your desired flavors to the batch freezer. It's that easy!
---
Shake & Smoothie Machines – Shakes and smoothies are a great way to boost your profits. Our shake and smoothies are prepared in a machine that is similar to our soft serve machine, but they are made at a warmer temperature, making it easy for your customers to sip their delicious treat through a straw. When considering a shake or smoothie machine for your establishment, Taylor Freezer gives you a few different options, including single-flavor equipment, twin-twist equipment, heat treatment equipment, and combination equipment. If you're unsure which type of machine is right for you, contact your Taylor Freezer sales representative and they will be able to help.
---
Soft Serve Machines – Soft serve ice cream is one of the easiest frozen treats to produce, and our Taylor Freezer models make it easier than ever! Our machines are designed to make and dispense the ice cream directly from the freezer, ensuring you get the best quality product possible. We offer both twist and single-head dispensers, as well as both floor and countertop models to meet all of your needs.
---
Frozen Beverage Machines – With a frozen beverage machine from Taylor Freezer, the possibilities are endless! Our machines make it possible to provide your customers with a variety of different drinks, whether you decide to serve carbonate frozen beverages, non-carbonated beverages, or alcoholic frozen beverages.
---

Two-Sided Grills & BBQs – Adding hot foods to your menu is a great way to draw in customers, and the two-sided industrial grills from Taylor Freezer make it easy for you to produce delicious food that your customers are sure to love. With just the push of a button, you can cook seafood, burgers, sandwiches, and more to the perfect temperature. We also offer industrial pressure smokers that deliver deliciously smoked foods in less time than a traditional smoker!
---
How Can Taylor Freezer Help My Business?
At Taylor Freezer of Michigan, we do more than just provide our customers with high-quality, reliable equipment — we also help their bottom line. When you own a business of any kind, it's important to be efficient while also providing your customers with products that they will love. Taylor Freezer equipment is more than ordinary kitchen equipment — our products are designed to encourage efficiency and organization in any commercial space. When you work with Taylor Freezer, you become part of our family, and we are here to help your business grow in more ways than one.
Excellent Customer Service
As we mentioned above, we take pride in offering our customers not only high-quality commercial food service equipment, but also the services they need to keep their equipment functioning properly. We accomplish this goal in a few different ways. First, we provide you with equipment that is made with the highest-quality materials, meaning you won't find yourself needing to service your equipment every few months. If your equipment does happen to malfunction, Taylor Freezer offers the parts you need to fix it, as well as experts who are more than happy to lend a hand. We understand that broken equipment can affect your bottom line, which is why we work hard to ensure that your equipment is functioning properly at all times.
Efficient Practices
When you're the owner or manager of a business, you have enough on your plate to worry about without lagging machines or an unorganized kitchen slowing you down. In the food service industry, efficiency is key, whether that's cooking food in a timely manner or having enough space in your kitchen for your staff to comfortably move around and get the job done. At Taylor Freezer, our products are designed with convenience and efficiency in mind. Many of our products give you the option of buying a countertop model or a floor model, depending on where you have space in your kitchen. Additionally, we create products that produce expertly crafted food without all the effort. Our two-sided grills cook burgers, seafood, sandwiches, and more to the perfect temperature every time, and our frozen beverage and ice cream machines produce smooth, rich ice cream in just a few simple steps!
Amazing Food
Providing your customers with delicious food is what you and your staff aim to do, but that can be difficult without the proper equipment. At Taylor Freezer, we strive to provide you with top-quality equipment that will help you serve your customers amazing food that will have them coming back for more.
---
The Importance of Reliability and Consistency in Your Business
In order to run a successful business, reliability and consistency are key. Not only do you need to be able to rely on your equipment to function properly during business hours, but you also need to be able to rely on your staff and even the manufacturer of your equipment. At Taylor Freezer of Michigan, we take reliability and consistency very seriously. We know that businesses rely on our equipment, which is why all of our products are made with high-quality materials that won't degrade over time. In addition to providing you with reliable equipment, we also offer reliable customer service for times when things go wrong or you have questions about our products.
Consistency is another key component that we strive to uphold on a daily basis. In order for a restaurant, hotel, coffee shop, or another type of establishment to be successful, they need to be able to provide their customers with consistent results. If you serve your customers burgers or seafood with a range of doneness, your customers are less likely to return. Instead, they will go to an establishment with a proven track record for providing consistently delicious food.
At Taylor Freezer, we put a lot of time and effort into creating products that will help your business run smoothly. Our commercial food service equipment not only produces amazing results each and every time, but it also requires very little effort to do so. For example, our batch freezers and soft serve machines require only that you pour in the necessary mixture and flavoring. Then, with the flip of a switch, your Taylor Freezer equipment will do the rest.
If you have any further questions about how Taylor Freezer can help your business, contact your local Taylor Freezer sales representative today!
---
Caring for Your Taylor Equipment
Every business owner knows that cleaning the equipment is vital. Clean equipment not only ensures the safety of your customers, but it can also extend the life of your machine. That being said, equipment that takes forever to clean can become tedious. For this reason, Taylor Freezer has created products with easy cleaning instructions. Each machine is different and comes with its own set of cleaning instructions. If you have any questions, feel free to give us a call!
While cleaning your commercial food service equipment daily may be one of the most important maintenance tips, you also need to keep in mind that there are other areas you may need to maintain as well. When you first receive your equipment, make sure you review the owner's manual that comes with it. This manual will tell you how to properly operate the machine, how to clean it, and what areas you will need to maintain on a regular basis. When you talk to your Taylor Freezer sales representative about your equipment, they will instruct you on professional maintenance should you need to schedule an appointment in advance.
---
Get Started With Taylor Freezer Today!
Are you considering buying commercial food service equipment for your new business venture? Do you want to upgrade your current kitchen equipment to make your business more efficient? Regardless of the reason, Taylor Freezer of Michigan is here to help you find the right equipment for your business. Our goal is to help small businesses all over Michigan by providing them with the high-quality commercial food service equipment needed to grow their business, expand their menu, and improve their bottom line.
Taylor Freezer of Michigan is proud to offer not only the Taylor Freezer brand equipment, but also equipment from other well-known brands such as Broaster, Zummo, EGRO, and more! Explore our website to learn more about the products we offer, helpful tips for using our equipment, parts and services, and so much more! If you have any questions regarding your commercial food service equipment, feel free to give us a call or use our online contact form.
Ready to upgrade your kitchen with high-quality equipment? Contact your local Taylor Freezer sales representative to get started! We look forward to helping you.
---
Contact Us Today!